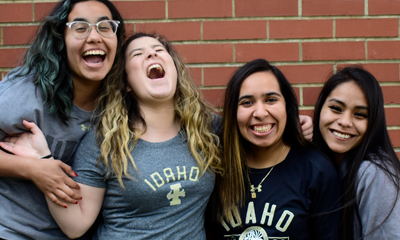 The VandalStore Rep program is a great opportunity for students to build campus connections and grow their professional portfolio while showcasing their Vandal Pride and University of Idaho spirit.

VandalStore Reps are passionate about the VandalStore, the U of I, leaders among their campus peers and experts on current trends. Our Reps foster campus relationships, help drive initiatives and engage with students, staff/faculty and the community.

As a VandalStore Rep, you will enjoy awesome perks, discounts and more!
A VandalStore Rep is someone who...
Bleeds silver and gold! Our Reps are enthusiastic about the VandalStore and flaunt it through their social media platforms
Is actively involved on campus. Students who are highly motivated and involved in student clubs and organizations, Residence halls/Greek life, student government and/or club sports
Brings a unique view or perspective
Has proven leadership skills and an outgoing personality
Is comfortable showcasing their unique, cutting edge or trend setting fashion style
Is committed to actively posting on their social media accounts, meeting deadlines, and maintaining a high level of professionalism
How it works
Apply - Fill out the quick and simple VandalStore Rep
application
. This lets us get to know more about you!
Those accepted as an ambassador will just need to:
Create - Create content using the VandalStore or Auxiliary Services products or services on their own time at the store or anywhere on campus
Share - Post content to the VandalStore and Auxiliary Services social media accounts and tag us in post from your own accounts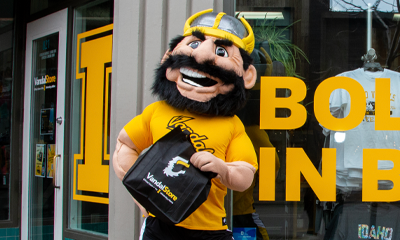 Key Responsibilities
Content creation (modeling products)
Generating brand awareness by word of mouth
Promote the VandalStore on your social media (minimum 3 posts per month)
Share VandalStore sales, events, product, and giveaways
Attend a minimum of 2 photoshoots each semester
Participate in feedback sessions
Attend at least one VandalStore event per semester
Adhere to the University Code of Conduct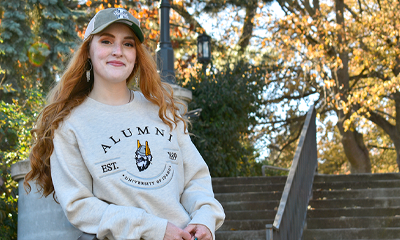 Perks
Chance to be featured on the VandalStore website, social media and print publications
Free and discounted VandalGear
$100 textbook scholarship after first semester of service
High quality photos for your own use
Connections and friendships
Sneak peek into new arrivals, launches, events and activities
Other free and discounted services
Eligibility
Must be a student enrolled at the University of Idaho
Must be an active user on Instagram and other social media platforms
Must have a high engagement rate on Instagram and a solid base of followers
Must be following the VandalStore social media pages