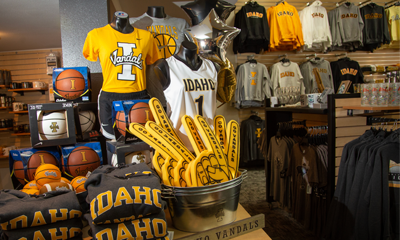 ALWAYS OPEN online. VandalStore.com provides convenient access to VandalGear for Vandals located far and wide.
Who We Are
The VandalStore is owned and operated by the University of Idaho and every dollar spent stays within the university to enhance and provide additional services for students. Money earned at the VandalStore contributes to student scholarships, student employment opportunities and campus organizations while directly supporting the university's various auxiliary services.

Each year the VandalStore gives out textbook scholarships to student employees within University of Idaho's Auxiliary Services. Last year the VandalStore awarded 40 individual textbook scholarships equaling $10,000.

In Moscow, ID.
Our main VandalStore location is on the University of Idaho Campus in Moscow on Deakin Street across from the Bruce M. Pitman Center. Stop by and browse the largest selection of VandalGear on the planet. Free 30-minute parking is available on both the North and South sides of the building in designated spots.

In Boise, ID.
Our Boise VandalStore is located at 821 W. Idaho Street in downtown Boise. Free 1-hour parking is available in the 9th and Main Garage above the store.